National Hamfest - Newark
28th and 29th September 2012
Another Great ISWL event on both days.
Once again, Friday seemed the most popular day.
( No photographs were taken on the Saturday )
A very successful stand again this year at this 2 day event
Thank You to all who helped and visited the Stand
Above - the 2 side tables that completed our stand
The traditional group photo:
Standing Left to Right:
| | | | | | | | |
| --- | --- | --- | --- | --- | --- | --- | --- |
| Anne | Robert | Phil | Kevin | Arthur | Tom | Robert | John |
| - | G0UEH | G4DMS | M0XLT | G0KOC | G3RPV | M0JRB | G8XTJ |
| G-21217 | ex GM-4799 | G-20593 | ex G-14041 | G-20358 | G-7964 | G-21197 | G-11570 |
Kneeling: Cliff G-13557 / G4YHP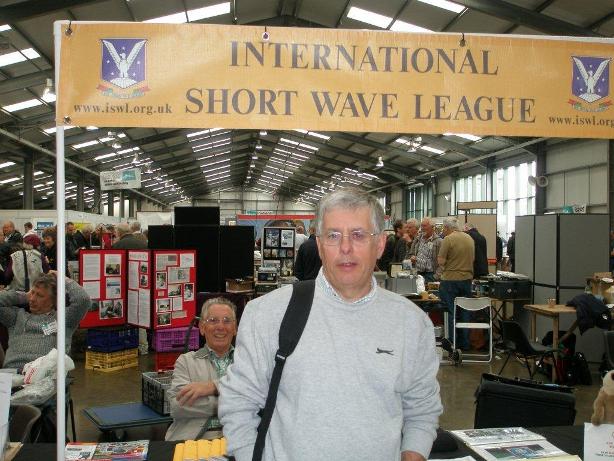 Current ISWL President - Dick G-14167 / M5DIK
with Arthur G0KOC sat behind him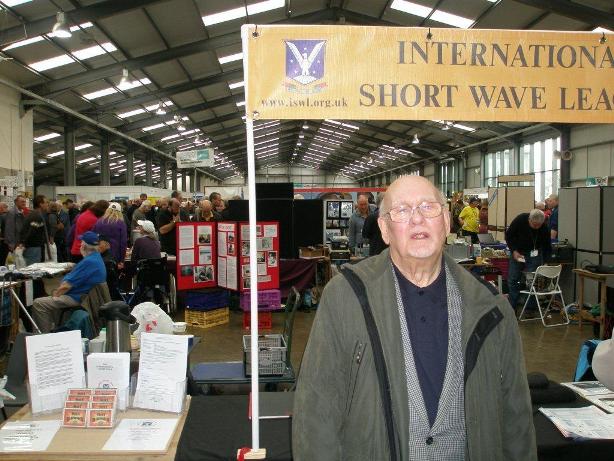 Rally Report from Cliff our Treasurer:

Friday 28th was an excellent day with 32 signatures in the visitors book
comprising 24 members, 10 *GARS; 3 ex members and 5 visitors with
many more visitors taking material without signing the book.

*GARS - Grimsby Amateur Radio Society, is affiliated to the League
as G-21079 and we thank them for their support again this year.

Members visiting the stand in order of visiting;


Cliff G-13557/G4YHP; Tom Venn G-7964/G3RPV; Peter Walker (GARS) G-21079/G6NDH;
Tony Mills (GARS) G1OAC; Mike Sparrow G-6531/G3JKN; Arthur Kinson G-20358/ G0KOC;
John Fitzgerald G-11570/G8XTJ; Phil Freeman G-20593/G4DMS; Phil Brookshaw G-21181/M3RVZ;
Robert Brown G-21197/ M0JRB/G8BUN; Dave Pykett (GARS) G0IIQ; Norman Burkill (GARS) M0BZU;
Dave Mason (GARS) G3RXP; George Smith (GARS) G4EBK; Brian Siddle (GARS) M6LZX;
Dave Pollard G-16051/G4LEL; President Dick King G-14167/M5DIK;
John Wainwright G16147/G6PBW; Russell Bradley G-20472/G0OKD;
Amanda Higton G-21186/2E1GWD; Rob Joserphs (GARS) M1BYQ;
Adrian Patten (GARS) G1BRB; Chris Gaunt (GARS) G7BRZ;
Claire McLennon G-21252/M6NCE (New family member)

Ex members:


Hugh Martin ex G-5572/G3JDO; R. Hislop ex GM-4799/G0UEH;
Kevin Jackson ex G-14041/M0XLT;

Saturday 29th was not quite as busy as the Friday, although there was still a good
amount of interest in what we had to offer with plenty of material handed out.

There were 9 signatures in the visitorís book - 4 members; 3 ex members and 2 visitors.

Members:
Cliff G-13557/G4YHP; Chris Pearson G-21224/G5VZ; Mike Gater G-1883/G4ICC;
Robert Brown G-21197/G8BUN/M0JRB:

Ex members:
Merfyn Jones ex G-20328/M0HWA; Roy Woollard ex G-4607/G8RCK;
John Aston ex G-21129/G6EQT

We will be back in Newark next year - see you there!